As 8' 11¾" (274 cm) in length, the SPIRIO | r is available as a majestic Model D, the pinnacle of concert grands and the overwhelming choice of the world's greatest pianists and for anyone who demands the highest level of music expression. Complimentary iPad Pro® included.
Interested in this model? Make an appointment with us to reserve it, for a visit to the store or contact us for more information on this piano. Simply click on the "Make an appointment or book this piano" button to send us your contact details.
Measures

Length — 8' 113/4" (274cm)
Width — 61 3/4" (156cm)
Weight — 1,125 lbs (511 kg)
Partager
View full details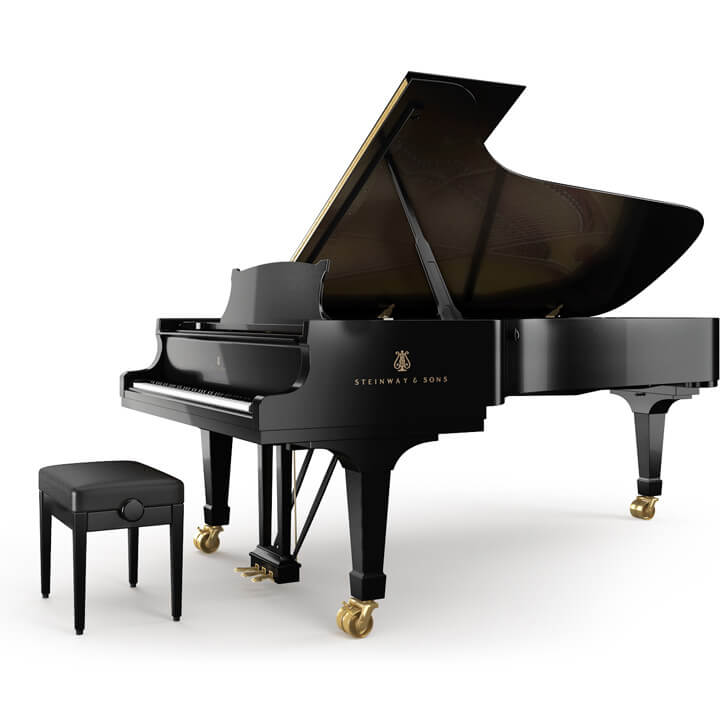 The Spirio, by Steinway & Sons brings the past and present to life
// Can you imagine hearing and seeing Lang Lang playing for you in the comfort of your home? Or maybe Vladimir Horowitz, Yuja Wang, even the legendary Sergei Rachmaninoff? Impossible, you might think. Well, such dreams are now possible.
Pianos Bolduc is proud to present the high-end and high-tech Steinway & Sons Spirio grand piano capable of reproducing music of the present and the past with incredible accuracy.
This piano goes beyond an updated piano player. It can capture the most subtle nuances produced by the keyboard, pedals, hammers and strings, all of which provide the varying accents and rhythmic shifts occurring in a performance. The name Spirio is derived from the Latin verb spirare, which means breathing or living, and by extension the very soul and poetic inspiration that inhabits it. This instrument delivers something that approaches the very essence of musical interpretation like never before.

Measures and weight
Length — 8' 113/4" (274cm)
Width — 61 3/4" (156cm)
Weight — 1,125 lbs (511 kg)

Other finishes on demand
From classic grand pianos to baby grand pianos, from concert grand pianos to living-room grand pianos, STEINWAY offers a variety of grand piano models in different styles and sizes.