225 years of know-how
With more than half a century committed to perfecting the design and production of fine pianos, Pearl River has become the best-selling piano in the world. By combining the art of European craftsmanship with quality components and the latest technological advances in instrument production, the pianos that bear our name are not only critically acclaimed but also deliver unprecedented value.
The heritage of our Ritmüller brand goes back 225 years; today Ritmüller's craftsmanship and attention to detail offer the ultimate piano playing experience. Our Kayserburg pianos are handmade, with no compromise in material or process, by a team of Pearl River's most experienced craftsmen.
No matter which instrument comes out of our state-of-the-art factory, the goal Pearl River has been and will continue to be, to exceed our customer's expectations by building the best pianos in the world.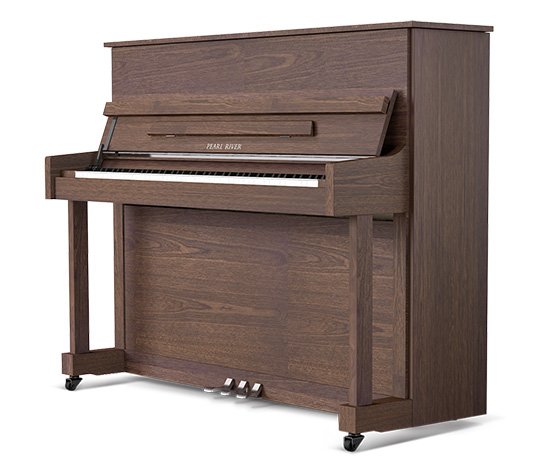 OVER 65 YEARS TO BUILD
From our first day in 1956, our goal was to make the best piano in the world for each individual player, no matter what their skill level.
Today, we're proud to have achieved these ambitions, with three distinct lines of pianos – Pearl River, Ritmüller, and Kayserburg – all world-class instruments that offer you incredible value. Today, we produce over 150,000 pianos annually in our new 1.2 million-square-foot, state-of-the-art factory – the largest in the world. Here, we combine traditional craftsmanship with advanced CNC digital technologies, with a focus on improving quality at every stage of the process.
Pianos Bolduc, unparalleled expertise!
Buying a new piano is an important expenditure, so it is essential that the instrument meet your needs, your aesthetic requirements, and that the price respects your budget. With over 40 years of experience in the field, we have the necessary skills to assist you in making this important decision.
Consult the different models by Pearl River
Regular price

$2,995.00 CAD

Regular price

$2,995.00 CAD

Sale price

$2,995.00 CAD

Unit price

per

Regular price

$1,995.00 CAD

Regular price

$1,995.00 CAD

Sale price

$1,995.00 CAD

Unit price

per

Regular price

$6,595.00 CAD

Regular price

$6,595.00 CAD

Sale price

$6,595.00 CAD

Unit price

per

Regular price

$1,595.00 CAD

Regular price

$1,595.00 CAD

Sale price

$1,595.00 CAD

Unit price

per

Regular price

$5,495.00 CAD

Regular price

Sale price

$5,495.00 CAD

Unit price

per

Regular price

$5,995.00 CAD

Regular price

Sale price

$5,995.00 CAD

Unit price

per